TONY ROLLINS COURT CASE- Street Preacher Arrest Re : Gays Part 1 of 2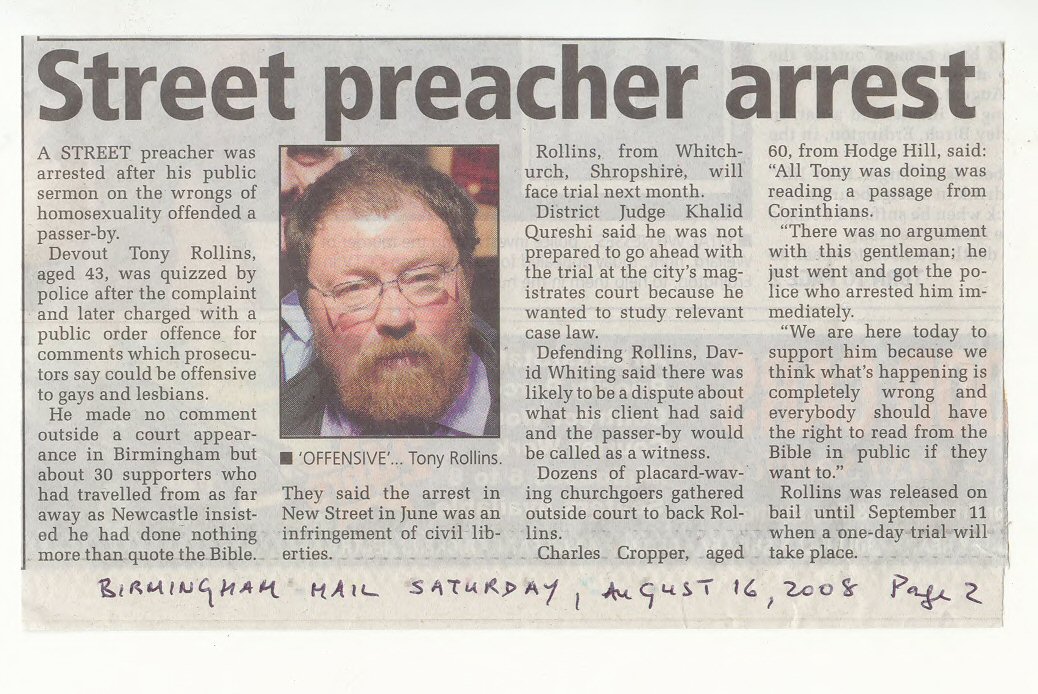 Tony Rollins Court Case Part 1 of 2
June 25, 2008

Tony Rollins called me last night to inform me he had been arrested for preaching on the street against homosexuality. Tony has a legal representative who told him to say nothing to the police, etc.

Tony is to appear in court next Tuesday…July 1 2008.

I am planning to see Tony on Friday afternoon ( June 27 ) to give him any pertinent articles which may help in his case.

Video clips of Tony on Youtube are at:-
June 27

Have just talked to Tony and he told me the court case is at 10:00am July 1, 2008.

Venue:

Birmingham Magistrates Court
Victoria Law Courts
Birmingham

Charge is ... words/behaviour - harassment alarm distress.

Contrary to section 5(1) and (6) of the Public Order Act 1986.

I understand Tony was speaking out the following Bible scriptures:-
9

Know ye not that the unrighteous shall not inherit the kingdom of God? Be not deceived: neither fornicators, nor idolaters, nor adulterers, nor effeminate, nor abusers of themselves with mankind, 10

Nor

thieves, nor covetous, nor drunkards, nor revilers, nor

extortioners

, shall inherit the kingdom of God. (1

Cor

. 6: 9, 10)

But the fearful, and unbelieving, and the abominable, and murderers, and whoremongers, and sorcerers, and idolaters, and all liars, shall have their part in the lake which

burneth

with fire and brimstone: which is the second death. (

Rev. 21:8 )

Romans 1
The venue was New Street, Birmingham at about 2:40 pm in the afternoon.

A man walking by stopped and made a phone call to the police, who arrived shortly thereafter. Tony was cuffed and bundled into a police van and taken to Steelhouse Police Station ( in central Birmingham).

There were two Christian witnesses of the event .. Conrad and Ronald.
Tony informed me last Friday he has been assigned a born again lawyer through contact with the Christian Institute.
July 1

Tony pleaded Not Guilty and the court case is adjourned until August 15.
August 15

The judge was only provided with the necessary papers 30 min prior to the case! Therefore the case was adjourned again until Sept. 11, 2008 at 10.00 am.

Today there was a "silent witness" outside the court building with Christians displaying banners/ posters with the following scriptures:-
Righteousness

exalteth

a nation: but sin is a reproach to any people. (

Proverbs 14:34 )

4

And he answered and said unto them, Have ye not read, that he which made them at the beginning made them male and female, 5 And said, For this cause shall a man leave father and mother, and shall cleave to his wife: and they twain shall be one flesh? (

Matt. 19:4-6)

For we must all appear before the judgment seat of Christ; that every one may receive the things done in his body, according to that he hath done, whether it be good or bad.

 

(

2

Cor

. 5:10)
LINKS
Fairness For Christians Like Tony Rollins
PAFN - FORUM
FREE TRACTS ( Available in PDF Format )
ARTICLES 1 of 2
ARTICLES 2 of 2
GUEST BOOK
PAFN - UK
PRAYER AND FASTING NETWORK ( PAFN )
Payout For Tony Rollins ( Dec. 2010)